KEF Announces Music Lounge Theater Obtaining THX® Certification
Audio Manufacturer KEF is proud to announce that their Demonstration Cinema, located in their KEF Music Lounge, has officially obtained THX Certification. Located in Marlboro New Jersey, and in addition to the theater's THX Certification achievement, the theater features a variety of KEF's THX Certified Ultra loudspeakers and subwoofers, meaning the individual loudspeaker performance as well as the listening and viewing environment of the entire room have been expertly tested and adjusted and verified to provide a stunning and accurate entertainment experience for all listeners.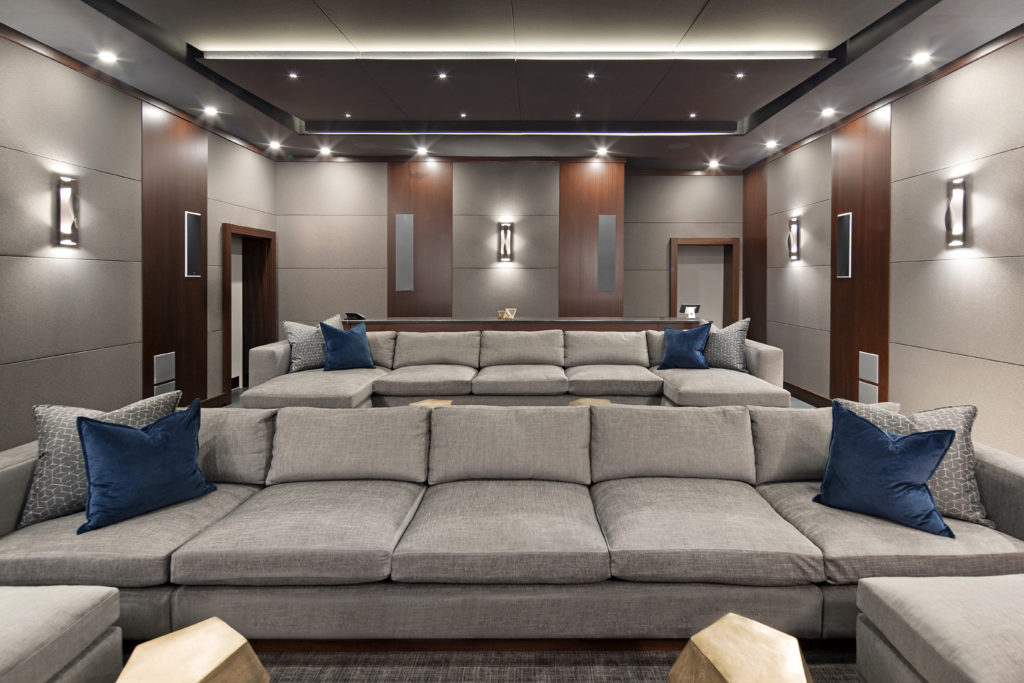 THX Certification ensures the KEF loudspeakers provide crisp clean audio to drive the emotional depth, texture and immediacy as envisioned by the sound artist. THX Certified loudspeakers pass hundreds of lab tests to guarantee precisely this level of performance every time. The KEF Cinema itself – over 9500 cubic feet with a 160 inch diagonal 16:9 screen and primary viewing distance of 18 feet – features the brand's top of the line in-wall and in-ceiling speakers, which passed all of the rigorous THX Certification Ultra tests, ensuring a sleek look without sacrificing performance.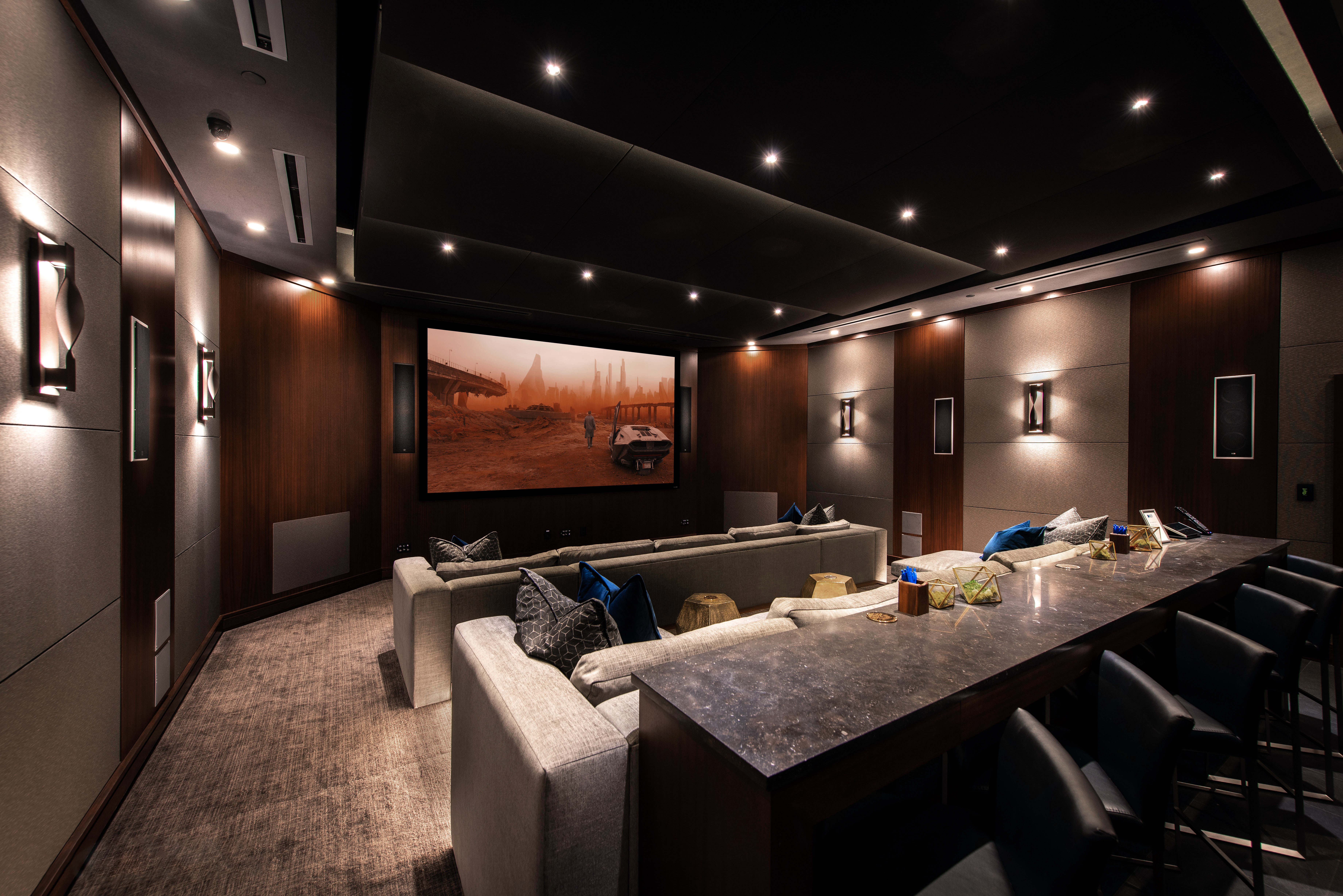 The THX Certified Ultra products bring the cinematic experience to larger home theaters, specifically 3,000 cubic feet in size, with a target listening distance of 12 feet from the screen. KEF's Music Lounge Theater meets these requirements with tested parameters including acoustics (reverberation time, background noise), audio (sound pressure level, frequency response, time delay) and speaker placement. Every seat in the house is in the audio "sweet spot"!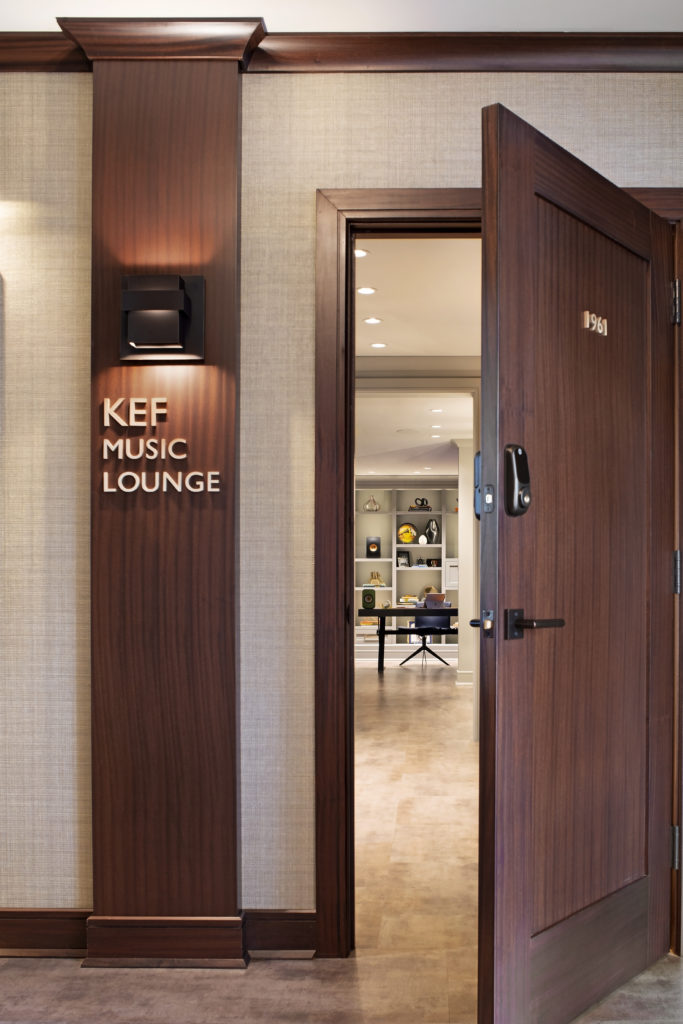 "The experience of listening to a movie in the 9.10.6 KEF Cinema is absolutely transformative. The room vanishes and you are transported into the cinematic soundtrack," said David Kroll, Vice President, KEF America. "The Atmos height control is so precise, you can hear that the orchestra is positioned below the floor in their pit. Even when listening at THX reference levels the system is so well balanced tonally you could relax all day, enjoying movie after movie."
THX Certification
THX Certification is a globally recognized assurance of uncompromising quality, consistency and performance. Using industry standards and a proprietary testing methodology, THX engineers evaluate and certify the audio and visual fidelity of consumer electronics to ensure they deliver the optimal entertainment experience. THX engineers perform hundreds of audio and video performance and quality assurance tests before a product becomes THX Certified.
THX analyzes everything from output levels, frequency response, signal-to-noise, distortion and bass management to recreate high impact cinema sound and best-in-class audio fidelity. Key tests include three components, Axial Frequency Response, Vertical and Horizontal Dispersion, and Output vs.
Distortion. Axial Frequency Response describes a loudspeaker's ability to reproduce audio accurately. Vertical and Horizontal Dispersion tests the off-axis response to make sure it is smooth with no audible comb filtering, ensuring every seat in the room is ideal for a high-fidelity audio experience. Output vs. Distortion ensures the speaker can reach the high volumes necessary to achieve THX Reference Level without creating audible distortion or artifacts. KEF's Music Lounge Theater has passed all of these key tests.
"We are pleased to announce THX Certification of KEF's high-end Music Lounge Theater, along with reinforcing the THX Certified Ultra seal achieved by KEF for the line-up of included speakers," said Peter Vasay, the head of the THX Certification program. "The launch of this elite listening lounge demonstrates KEF's continued commitment to providing its customers with an elite entertainment experience, and THX remains a proud KEF partner to ensure their products meet our rigorous, high standard of audio quality."
Sponsors & Key Players
This sophisticated space with its high-end amenities came together with the help of KEF's Elite Sponsors including Acoustic Innovations, Parasound, Epson, Straight Wire, Indy Audio Labs / Acurus and Seymour Screen Excellence. To deliver a state of the art listening experience, a team of experts were involved every step of the way, from the actual acoustic design & build (Acoustic Innovations), to the KEF product's THX Certification , to the interior design & overall experience (KBK Interior Design). This is not a showroom – this is a space for music and movie lovers to enjoy audio as it was meant to be heard.
With the increase of home theater use this past year, KEF understands the desire of bringing that cinematic sound directly to your home. Whether you're a fan of music or a film fanatic, KEF can help you recreate that premium at-home listening experience with the help of KEF's Extreme Home Theater line of THX Certified speakers & subwoofers and one of KEF's premium authorized custom installers. To find a dealer, please visit us.kef.com/dealerlocator/. To see all products featured in the KEF Music Lounge Theater, please visit us.kef.com/thx-theater.
The KEF Music Lounge is by appointment only through an authorized KEF dealer, and currently follows New Jersey Covid-19 protocols. To learn more about KEF & THX, please visit https://us.kef.com/ and thx.com.
****
About KEF
KEF was founded in 1961 by Raymond Cooke OBE (1925–1995). Headquartered, in those early years, in a Nissen Hut on the premises of Kent Engineering & Foundry in the UK, after more than half a century at the cutting edge of audio the company remains committed to excellence in sound. From ground-breaking Uni-Q technology to the bar-setting LS50 Wireless, KEF's flair for the unusual – and sometimes controversial – balances an obsession with design in harmony with the most innovative engineering. KEF's reputation for quality is founded on a refusal to compromise on aural authenticity or experience.
www.kef.com
About THX
Founded by legendary filmmaker George Lucas in 1983, THX Ltd. and its partners provide premium entertainment experiences in the cinema, in the home and on the go. Over the past 35 years, THX has expanded its certification categories beyond studios and cinemas to consumer electronics, content, automotive systems and live entertainment. Today, THX continues to redefine entertainment, providing exciting new cinema offerings, technologies and assurance of experiences which provide consumers with superior audio and visual fidelity and ensure an artist's vision is truthfully delivered to audiences worldwide. THX Ltd. is owned by Razer, and operates as a fully independent subsidiary. For more information visit THX.com, find us on Facebook andInstagram, and follow us on Twitter.
A Special Thanks
KEF would like to thank our sponsors and partners who brought this vision to life. Thank you to Acoustic Innovations, Parasound, iTEC Consultants, Universal Remote Control, Seymour Screen Excellence, Epson, Indy Audio Labs/Acurus, Innuos Servers, Straight Wire, Zigen Corp, Legrand, MiddleAtlantic, Luxyl, Pass & Seymour, On-Q, Ortonics, Ui Suppliers, Just Add Power, NAD/Bluesound, Salamander Design, Kaleidescape, SurgeX, and KBK Interiors