Review: Soma Smart Shades
One of the very most requested products for the smart home is something that Alexa has had control of for awhile, smart shades.  Siri, rather HomeKit, has been sorely lacking in this department thus far.  Well, that is changing, and changing pretty fast as several companies have now come to market with Siri-compatible Smart Shades.  Lutron and others are bringing theirs into the fold, except none of them work with your existing shades.  You have to buy their smart shades, and that may be a deal breaker for your significant other no matter how cool it would be to control your shades with your voice, and set them into routines.  One company so far is aiming to change that, Soma, and their product gets a lot right, directly out of the box.
First, some backstory, as this was not an easy review to make happen, and Soma has been nothing short of a pleasure to work with to make this review possible.  I had a super heavy custom light-blocking blind that I had built for the extreme Vegas sun, but those blinds opened left to right, and none of these smart shade motors pull left to right.  They pull vertically, with an endless loop rig.  So, after I received these review units and realized this, which was my mistake, not Soma's, I had a big player in the custom shades business make custom vertical light-blocking shades for my room.  
Well, of course this was a nightmare.  My wife picked a custom material and color she wanted, and the company delivered and installed the wrong material. They delivered what looked like roll-down movie theater screens, and my wife about killed me.  The company (who shall remain nameless even though they deserve to be blasted) "scrambled" to get the right ones made.  Fast forward a month, and they finally got installed and I quickly installed the Soma Smart Shades motors.  Soma was nothing but patient with me, and was there at every turn answering my questions and concerns.  This is the same sentiment I've heard from end users also, and the company is very customer first.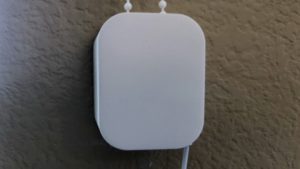 Out of the box, Soma sends you a beautiful little motor, several different gear wheels depending on what type of cable is used for the endless loop chain, and a solar panel to keep this baby charged without hard-wiring to boot.  Install is a snap, simply touch the motor so the bluetooth LE activates, attach the chain to the spinning gear, and mount to the wall.  The app is very handy in this setup, and has visual instructions on exactly what to do.  The solar panel has adhesive to attach to your window, and I placed mine on the bottom of the window horizontally, as to get the most sun hitting them throughout the day.  My room is comprised of two small windows, and one large double glass door.  The big window has a heavy roll, and the little motor still does.  
Now, bear in mind, NONE of these smart shades pull fast, so if you have to exit quickly from a glass door such as in my room, plan on taking another exit.  It is about a minute up, and another minute down, but once you have them on automation schedules, you don't even notice this.  They are very quiet since they have a small footprint and small motor, and are not bothersome in any way.  To connect to Siri (or Alexa if you believe in that nonsense), a Soma connect box (sold separately), is the answer.  It is a wifi-enabled box that emits a LE signal to the motors, enabling connection to Siri and Alexa. Literally takes ten seconds to configure.
One caveat on these motors, the Soma connect is not yet HomeKit-certified.  That being said, this is no issue at all, as they work perfectly with HomeKit.  When adding the products in the Home app, the app warns you they are not HomeKit-certified, and you simply choose "add anyway" and it works perfectly.  Soma is working with Apple diligently to get certification, and it will be done this year.  I would NOT let this deter you as they function exactly like any other HomeKit-compatible device you have in your system. Once you have added them in, you can add them to scenes or automations easily.  I have mine open at dusk, as Vegas is too damn hot to have them open during the day.  Then they close when I set my "goodnight" scene, so they close when my house goes to sleep, and the AC gets cooler and my lights go off.  Very slick.  If I leave my home after dark, they close automatically, and reopen when I return home.  
The only other "negative" (I don't consider the above a negative as they function flawlessly) is that the app isn't as intuitive yet as it could be.  Again, not even an issue to me, as I use the Home app and Siri 99.99% of the time to control them, as is the case with all of my smart home products. The app doesn't have stop and starting point adjustment once they are setup, but Soma told me this is coming in their new revision to their app in September.  That's literally the only negative there is, and it can be a slight bother if the shades change alignment over time because of gravity, and you can't correct without deleting them and re-adding them.  But a fix is on the way, luckily.
This is one of those cool "it" products that, like all things Apple, just work and work pretty well.  The design is slick, the piece works beautifully and quietly, and the solar panel is the finishing touch that make Soma Smart Shades a "must buy" from me for your smart home. You can order them right now at Soma Smart Home.