The wait is finally over.  Originally announced last fall, the Apple HomePod, the company's first foray into the the crowded and dominated world of smart speakers, is finally available after a few months delay.  Was the wait worth it? Yes definitely, and things will only get better from here.
The 5.5lb HomePod packs a ton of tech into a small footprint: giant woofer with custom amplifier, a dazzling six-microphone array for Siri voice commands, beam forming, studio-level dynamic processing, a brilliant array of seven horn tweeters, a robust A8 chip, bluetooth 5.0, and MIMO Wifi.  What does this all add up to? The most technologically advanced speaker ever put to market.  However, some of the bells and whistles the competition have not been implemented…yet. Out of the box, the HomePod lacks the ability to pair two units in stereo, and multi-room audio from AirPlay 2 is still a few months off.  The HomePod also, as of now, can not recognize individual voices, therefore can only handle personal requests for one account. This is the most troubling piece to me, as I don't want my ten year old text messaging my coworkers or bosses about her latest and greatest fart.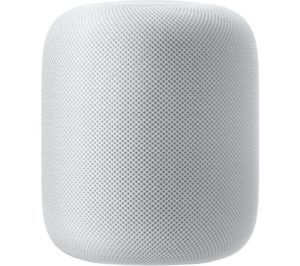 Let's cut right to it: how does HomePod stack up against the competition for sound quality? Quite simply, it blows them all away.  The Google Max and Sonos: One come closest, but neither can truly match the HomePod in shear dynamic sound.  The Max is definitely louder, but this is something Apple and should fix on the HomePod shortly.  The sound is akin to Beats, where it is heavy on drum and horn (bass and treble), and slightly lacking in mid-range.   But it has a warm and pleasing sound, with live recordings sounding so good, this leaves the competition hurting.   
Siri will be the future strongest point of Apple's smart speakers.  Siri has the ability to outshine Alexa, Cortana and Google simply by the shear number of devices it resides on, and the data migration and collection that will lead to.  However, Siri has been limited on the HomePod from its phone and iPad counterpart.  Much closer to the limited version of Siri on the Watch, its commands and ability to answer generic questions aren't quite there yet, and certainly not on par with Alexa or Google.  But it will be.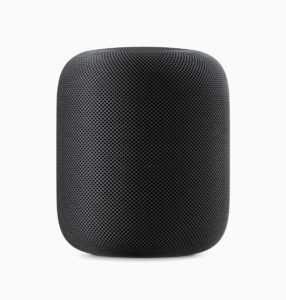 Siri can hear you across the room with the music playing full volume, thanks to its six microphone array and active noise cancellation.  It simply doesn't hear the music its playing and listens for your voice.  Pretty slick.  Siri can activate your HomeKit products, like kill your lights or make your home warmer.  I use mine in my bedroom (one of six HomePod's I have) to say "goodnight" to my house, shutting off all of my lights, dropping the temperature down in my home, and virtually tucking me in for the evening. I do wish the HomePod had the option to always be the device answering your "Hey, Siri" command, but as of now, if my Watch display is on, it will pick up first, or my phone if it is out of my pocket and closer than the HomePod.  I feel like the reason I have six HomePods is to be my Siri in my house, so I hope they give you the ability to prioritize down the road.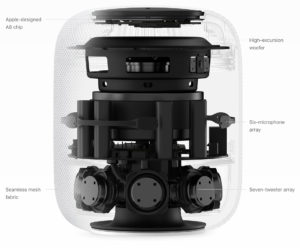 Siri can answer general questions about weather, sports, news, and even simple math and conversion questions, but it can't answer the same breath of scope that Siri does on the phone.  Siri on HomePod lacks the ability to answer knowledge questions for the most part, unlike Google.  And that may be something they have to work out with Google or Bing, because she pulls her data from Google now, and I'm educated guessing that Google probably doesn't want her reading from Google's knowledge base just yet since they have their own product, but this is something Apple needs to address, as the media and reviewers have hammered Apple so far on this point.
Do I recommend HomePod? 150%.  Its brilliant and sounds delicious. When Apple first adds stereo pairing and follows with AirPlay 2 for multi-room audio later this spring, Alexa and Google will have some tremendous completion on their hands.  If you live and love in the Apple ecosystem like I do, then HomePod is an easy decision and your only choice to keep it "in the family." I love being able to talk to Siri hands-free in any room in my house, and Apple Music (which is the only native music source as of now, everything else is via AirPlay) is right at the end of my voice.  The HomePod is a no-brainer, get one (or six) today!