I love something new in the tech world, and I especially love something that's an original take on existing product that quickly establishes a new tech bar for the competition to follow.  Much like how the Nest thermostat changed thermostats and how the Echo with Alexa changed speakers, the brand new Owl Car Cam is here and it packs some unique technology wallops.  I got my unit just a few days ago, and was able to put it through the paces driving around the northwest this weekend.  Very impressive, especially since it's in its infancy.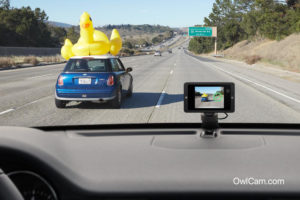 Packaged much like an Apple product (which will always score points with me), the setup for the Owl is much easier than you would expect.  Owl provides multiple detailed videos on how to hook it up, including personalized to your specific vehicle.  The Owl connects with a slick magnetic power connector to your vehicle's ODB port, and then using the packaged tuck tool, the wire is easily routed to along the dash to the arm that holds the camera.  My better half has more patience than I do, so she did the install, and had it basically perfect in less than ten minutes.  After the install, the Owl sits atop your dashboard like a mighty King, just like a factory unit.  After the hardware is installed, the Owl Car Cam app pairs to the camera via QR code, and now we are ready to rock.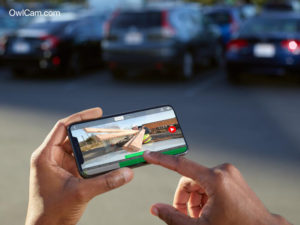 The Owl app, while only available on iOS initially, is actually pretty slick, and holds much promise for the future.  The app has three tabs, a Live tab, a from Owl tab, and a My Clips tab.  Once the camera is paired in the setup in the Live/24 tab, you can then view your camera, the front view or rear view, live as long as the camera is in the Owl's LTE area.  The LTE piggybacks on AT&T's carrier network, and is available across most of the United States.  The live view is actually pretty good quality, and I was able to spy on my lady driving to the store, while hoping to catch her performing Car Karaoke which I unfortunately missed.  You can also view highlights of the previous 24 hours on the same tab.  Under the clips tab, you can view any incident clips either you've triggered or via a motion alert.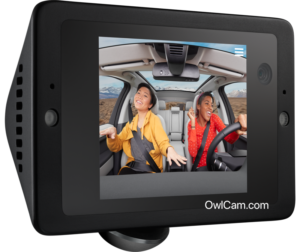 While driving, to save a clip, all you have to do is say "OK, Presto," and presto, Owl saves ten seconds before you say it, and after.  Pretty slick.  I had an incident on the highway very quickly after installing where laundry had spilled all over the highway, and I was able to catch all the cars almost wrecking just by saying "OK, Presto." Why no, "OK, Owl?" Because presto is more distinguishable than the word "owl," and makes for less chances of missing something cool in front of you or in the car.  Have a clip you like? You can share it to Owl's site directly, or to social media of your choice.
The Owl Car Cam has a pretty screen, that isn't too bright to be distracting, but packs a pretty sharp image.  Owl has a beautiful 1080p front facing camera, and a 720p inside facing camera with sound.  A simple swipe down on the screen deactivates in the interior camera, and a swipe up brings it back.  Using the live view in the app can override the deactivated interior camera.  The camera acts as an anti theft device, and will set off flood lights when motion is detected.  The primary driver's phone and a bluetooth connection eliminate redundant alerts when the driver is near the vehicle.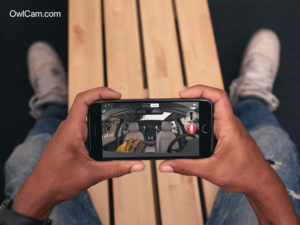 Owl is promising fast and furious firmware and software updates, focusing on image quality.  The night view isn't perfection compared to the day view, but Owl promises this will only get better.  Owl is a worthy addition to my lineup, and I am pretty impressed.  I would love the option to add this to my post pay AT&T account, as the Owl LTE offers only 60 clips a month for free.  With my unlimited data plan on AT&T, I would love to not worry about this limit, especially if I have a pretty eventful month.  I love products that come from Apple, and I love products that come from Apple guys who have moved on.  This is a beautiful idea and inception, and I can't wait to see what else this thing will do over time.  A must-have.